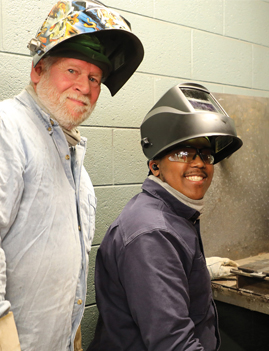 Welding is one of RCC's most popular and successful programs! Our excellent instructors provide the direct, hands-on lab instruction needed to gain crucial skills and become a credentialed welder! Expect an emphasis on safety, quality, and the responsibilities associated with certification.
These are short-term classes where students acquire skill sets that are attached to specified American Welding Society certifications. Tuition discounts may be available. The program offers certifications in:
Call 804-333-6730 or email advisor@rappahannock.edu to sign-up for AWS Welding Certification classes. Class schedules and locations are updated quarterly.
PROGRAM REQUIREMENTS
Students acquire skill sets attached to specified American Welding Society certifications and must earn the industry credential before advancing in the program. Personal Protective Equipment (PPE) is required and must be purchased by each participant in the program. Attendance is critical to successful course completion. All welding courses must be taken sequentially due to safety/lab restrictions.

Meeting or exceeding weld quality specifications outlined by the American Welding Society (D1.1 code) is required before testing. 
PPE required:
Hard-soled, 8" lace-up leather boots (steel toe preferred but not required)
Gloves (gauntlet type) 
Welding Shield & Helmet (self-darkening preferred)
Safety Glasses (ANSI 287.1) 
100% Cotton Long-sleeve Shirt or Flame-Retardant Welding Jacket.
Class sizes are limited, so sign up early! If you are interested in discounts and financial assistance, you must contact us at least three weeks before the start of class.
G3 Tuition Assistance